Planning a trip to California can be exciting, but you'll want to avoid visiting during certain times of the year. If you're wondering when are the worst times to visit California, this comprehensive guide will provide the details you need to plan your vacation.
If you're short on time, here's a quick answer to your question: the worst times to visit California are mid-summer and winter. The summer months of July and August bring hot temperatures, bigger crowds, and higher prices. Winter from December to February can be rainy with fewer attractions open.
Summer Crowds and Heat
Peak Tourism Season
One of the worst times to visit California is during the peak tourism season, which falls in the summer months. From June to August, tourists from all over the world flock to the state to enjoy its stunning beaches, national parks, and vibrant cities.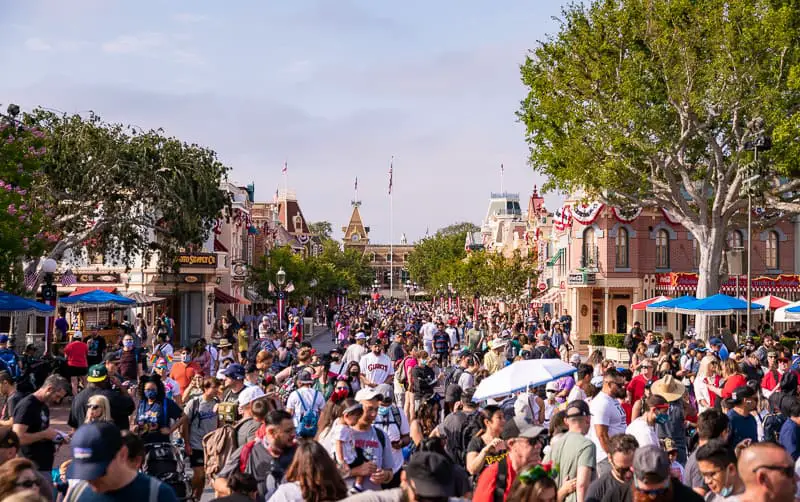 While this may sound appealing, it also means that popular attractions and destinations are crowded, making it difficult to fully enjoy the experience. Long lines, packed beaches, and congested highways are common during this time, leading to frustration and a less than ideal vacation.
According to Visit California, the official travel website for the state, the summer season sees a significant increase in tourist numbers. This surge in visitors not only impacts the availability of accommodations but also leads to higher prices for flights, hotels, and rental cars.
If you prefer a more relaxed and peaceful experience, it's best to avoid visiting California during this peak tourism season.
Hot Weather Across the State
Another reason why summer can be the worst time to visit California is the scorching heat that sweeps across the state. With its Mediterranean climate, California experiences hot and dry summers, particularly in inland areas such as the Central Valley and the desert regions.
Temperatures can often soar well above 100 degrees Fahrenheit (38 degrees Celsius), making outdoor activities uncomfortable and sometimes even dangerous.
During the summer, it's not uncommon for wildfires to occur due to the dry conditions and high temperatures. These wildfires can lead to poor air quality and potential travel disruptions. It's important to stay updated on any advisories or warnings issued by local authorities during this time.
While coastal areas like San Francisco and Los Angeles may offer some relief from the heat, they too can experience high temperatures during the summer months. It's essential to stay hydrated, wear appropriate clothing, and seek shade or air-conditioned spaces when exploring California during this time.
Winter Rain and Closures
California is known for its beautiful weather and sunny skies, but there are certain times of the year when visiting may not be as ideal. One of those times is during the winter months, when rain showers are more frequent and some attractions may be closed.
Frequent Rainfall
Winter in California is characterized by an increase in rainfall, particularly in the coastal regions. The state relies heavily on its winter rainfall to replenish water supplies and support its diverse ecosystems.
While this is great for the environment, it can make outdoor activities less enjoyable for visitors.
The frequent rain showers can make it difficult to explore California's natural wonders, such as hiking trails and national parks. The muddy and slippery conditions can pose safety hazards, and the cloudy skies may obstruct the stunning views that these attractions are known for.
Some Attractions Close in Winter
In addition to the rainy weather, some attractions in California choose to close their doors during the winter months. This is often due to maintenance work or a decrease in visitor demand. It's important to check the operating hours and schedules of the attractions you plan to visit before making any travel arrangements.
For example, theme parks like Disneyland and Universal Studios Hollywood may have reduced hours or even temporary closures during the winter season. These closures allow the parks to perform necessary maintenance and renovations, ensuring that visitors have the best experience possible when they do visit.
Similarly, certain outdoor attractions, such as botanical gardens and zoos, may also have limited hours or closures during the winter months. It's always a good idea to check their websites or call ahead to confirm their availability.
Pro tip: If you do find yourself visiting California during the winter months, don't let the rain dampen your spirits! There are still plenty of indoor activities and attractions to enjoy, such as museums, art galleries, and shopping centers.
When Are the Best Times to Visit California?
California is a popular travel destination with its stunning coastline, vibrant cities, and diverse landscapes. However, there are certain times of the year when visiting California can be less than ideal.
On the other hand, there are also periods when the weather is perfect, attractions are less crowded, and you can enjoy the best of what the Golden State has to offer. Here are the best times to visit California:
Spring and Fall Shoulder Seasons
One of the best times to visit California is during the spring and fall shoulder seasons. In these seasons, the weather is typically mild and pleasant, with fewer crowds compared to the peak summer months.
Spring, from March to May, offers blooming wildflowers, perfect for exploring the famous California poppy fields. In the fall, from September to November, the temperatures cool down, making it an ideal time for outdoor activities like hiking, wine tasting, and exploring national parks.
During these shoulder seasons, you can also find better deals on accommodations and attractions, as many tourists flock to California during the summer. It's a great time to visit popular destinations like San Francisco, Los Angeles, and San Diego without feeling overwhelmed by crowds.
Timing Your Trip
When planning your trip to California, it's important to consider the timing. If you're looking for a beach vacation, the summer months of June to August are the most popular. However, these months can also bring large crowds and higher prices.
If you don't mind cooler temperatures, consider visiting the coastal areas in the spring or fall for a more peaceful experience.
If you're planning to explore the national parks, such as Yosemite or Joshua Tree, it's best to avoid the peak summer months when temperatures can soar and the parks can be overcrowded. Instead, plan your visit during the spring or fall when the weather is more comfortable and the parks are less crowded.
Alternative Places to Visit During Bad Times
Northern California
When the weather or other circumstances make it less than ideal to visit California, there are still plenty of alternative places to explore. In Northern California, one such place is the stunning Lake Tahoe.
View this post on Instagram

Known for its crystal-clear waters and breathtaking mountain scenery, Lake Tahoe offers a wide range of outdoor activities all year round. Whether you're into hiking, skiing, or simply enjoying the serene beauty of nature, Lake Tahoe has something for everyone.
If you're looking for a more urban experience, consider visiting San Francisco. Known for its iconic landmarks such as the Golden Gate Bridge and Alcatraz Island, San Francisco offers a vibrant cultural scene, world-class restaurants, and unique neighborhoods to explore.
Don't forget to take a ride on one of the famous cable cars and enjoy the stunning views of the city.
Southern California
While Southern California may be known for its sunny beaches, there are still alternative places to visit during the worst times. One such place is Joshua Tree National Park. Located in the Mojave Desert, Joshua Tree offers a unique landscape of rugged rock formations and the iconic Joshua trees.
It's a perfect destination for hiking, rock climbing, and stargazing.
Another alternative destination in Southern California is Palm Springs. This desert oasis is known for its luxurious resorts, spas, and golf courses. Take a dip in one of the many refreshing pools, indulge in a spa treatment, or explore the vibrant art scene in downtown Palm Springs.
With its year-round sunshine, Palm Springs is a great escape from the bad times.
Central Coast
The Central Coast of California also offers alternative places to visit when the conditions are less than ideal. One such place is Monterey. Famous for its picturesque coastline and abundant marine life, Monterey is a paradise for nature lovers.
Don't miss the opportunity to visit the Monterey Bay Aquarium, where you can get up close and personal with a wide variety of marine species.
View this post on Instagram

If you're looking for a more laid-back experience, consider visiting the charming town of Cambria. Located along the scenic Highway 1, Cambria is known for its beautiful beaches, art galleries, and boutique shops.
Take a leisurely stroll along Moonstone Beach, known for its smooth pebbles and stunning sunsets, and enjoy the tranquility of this coastal gem.
Remember, even during the worst times to visit California, there are always alternative places to explore and enjoy. Whether you prefer the outdoor adventures of Northern California, the vibrant cities of Southern California, or the coastal charm of the Central Coast, there's something for everyone to discover.
Conclusion
To avoid the worst times to visit California, it's best to avoid summer and winter. For better weather, smaller crowds, and lower prices, target the spring and fall shoulder seasons. With smart timing and flexibility, you can still have an amazing California vacation any time of year.